[ad_1]

When you've got kids, sometimes, you need a break. I wanted a place with sunshine, culture, beaches and a festive nightlife. After years of expatriations in Pacific Asia, there is so much I haven't seen in my own country. So Marseille it was -even though I had been there many times, I had never explored the city the way I would do when I'm traveling abroad.
Marseille used to have a bad reputation –it was once seen as somewhat stressful, busy and dangerous. I had that idea too -until I actually spent some quality time there. Okay, I have to admit, the traffic is terrible and some people can be a little* tense on the road. I would advise to take the train to get to Marseille, then to walk, or rent bikes -or, like the locals do, a scooter. Anyway. Marseille is cool. We spent a long weekend around and absolutely loved that sunny exuberant city. Follow the guide…
*that's an understatement 🙂
---
Things to know before going to Marseille
Check the weather before -it can get REALLY windy. And really hot.

Pétanque* is a state of art in Marseille (*bocce).

The water is cold in the Calanques. Prepare yourself! And the beaches are made of stones, so a pair of waterproof shoes is always a good idea.

Drinking pastis is a religion –order it the right way. Are you more a Ricard or a 51 person?

La bouillabaisse might be good, but is also insanely expensive.

Don't rush. In Marseille, le quart d'heure marseillais means that "on time" is 15-30 minutes behind. Take your time!
Where to stay in Marseille?
We stayed in Hotel Maison St Louis*, 2 minutes walk from the Old Port, right next to Noailles district. It was absolutely perfect: the situation, the value for money, the staff, the decor, the comfort. I recommend it! [*NO sponsor here]
---
Itinerary of a 3 days trip in Marseille
Get ready for a trip in the beautiful yet rebellious city of Marseille!
Day 1 – le panier, le mucem, les docks & le vieux port
For the brave ones: Start the day by a run along the Old Port and further along the sea

Breakfast at The Cup of Tea. A great place to do some people watching, buy some old books or complete your collection of vinyles – 1 Rue Caisserie, open Mon-Sat 9:30am-6pm

Go for a street art safari in the colourful streets of Le Panier district

Explore Le Mucem, not only for its exhibitions but also for its incredible architecture, its situation by the sea and of course, its views –especially the one from the bridge above the water – 1 Espl. J4, open Wed-Mon 10am-8pm

Shop at the Docks Village, and drink bubbles for the happy hour – 10 Place de la Joliette, open Mon-Sun 10am-7pm

Drink and eat in the Noctilio 1930, a fabulous old wooden sailing ship, parked at the end of the Old Port, right next to the Mucem. It's called the Le Bar sur la Mer, you can find more infos about it on their Facebook page – 204 Quai du Port
– – – – – – – – – – – – – – – – – – – – – – – – – – – – – – – – – – – – – – – – – – – – – – – – – – – – – – – – – – – – – – – – – – – – – – – – – – – – –
Day 2 – basilique notre dame de la garde, vallon des auffes & le frioul
Start the day with a homemade breakfast at cosy and trendy Les Succulentes. The decoration, the owner, the books, the food, the music -it's all very unique, and absolutely lovely – 16 Boulevard Vauban, open Mon 9am-4pm, Tue 10am-5pm, Wed-Fri 9am-5pm, Sat 10am-3pm, closed on Sundays

Walk up the Basilique Notre Dame de La Garde and enjoy the walk all the way to the top of the hill.

Get lost in the neighbourhoods around, and walk down the lovely Vallon des Aufffes. Once there, you can enjoy a jump in the water, or a relaxing nap on the rocks.

Jump on a boat for a romaaantic evening in Le Frioul Island. You can have dinner there by the sunset, and get back for late drinks on the Old Port. Check out the boat schedule here.
– – – – – – – – – – – – – – – – – – – – – – – – – – – – – – – – – – – – – – – – – – – – – – – – – – – – – – – – – – – – – – – – – – – – – – – – – – – – –
day 3 – colourful noailles & les goudes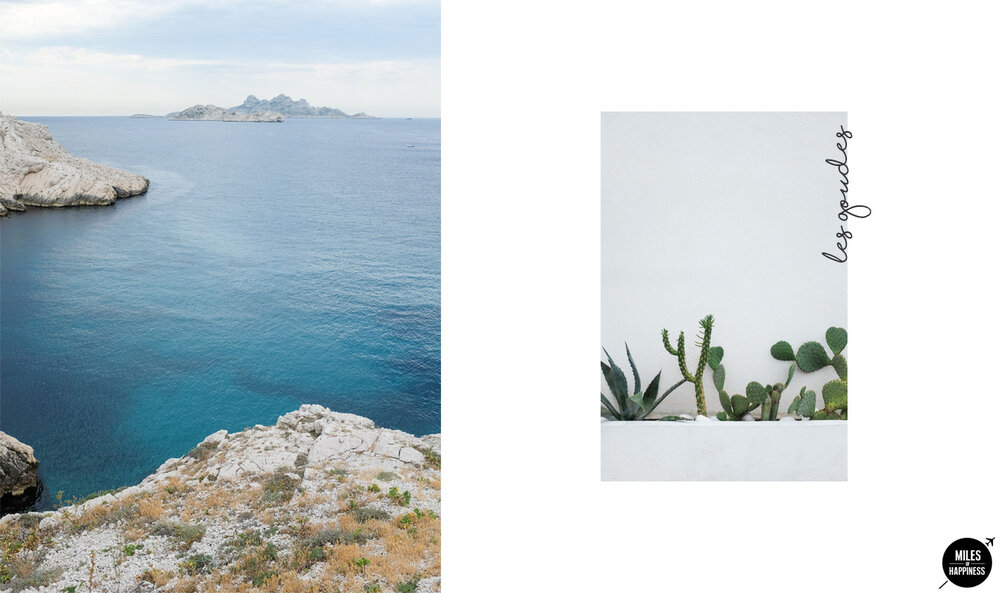 Explore Noailles' busy and colourful market, and read the newspapers with a coffee in one of the many popular cafes. If you like spices and food from the world, you'll find anything you need there.

If you like street art, walk by Cours Julien – don't forget you camera!

Head to Les Goudes for a lunch in a typical fishermen village. Walk in the Calanques, enjoy the view, and find your secret spot for a peaceful afternoon. Don't leave before getting a cold beer in 20 000 lieux sous les bières – 12 Boulevard Alexandre Delabre, open Tue-Sun 3pm-2am
---
best photos spots in Marseille
Cours Julien : a colourful alley made of stairs and street art

Vallon des Auffes : an old bridge that makes some beautiful sunset pics

Basilique Notre Dame de la Garde hill : for the cactus and the views

Les Succulentes : the perfect Pinterest coffee shop

Le Mucem : any photographer would get crazy in there -it's incredibly inspiring!

Le Panier : street art -not only on the walls. On the floor, the windows… it's everywhere, and truly original.

The Ombrière du Vieux-Port de Marseille by Norman Foster : a giant mirror by the water
Don't miss a post !
Sign up, get inspired.
Thank you!
[ad_2]

Source link