[ad_1]

Today, I've got a message just in time for Black Friday and holiday shopping! But honestly, these reminders are useful year-round if you're trying to make more intentional purchases and live with less STUFF! 
4 Crucial Reminders to Keep You from Overbuying This Holiday Season
1. If you didn't need it before it was on sale, you don't need it now.
As we go into Black Friday, I will be repeating this like a mantra. As in, don't be surprised if you pass me on the street and I'm mumbling this to myself over and over. 
Every influencer on the internet is about to start talking about their favorite sales. Every blogger is getting ready to hit publish on their latest gift guide… The pull of sales is REAL. 
If you're like me, you're guilty of taking a peek at a few gift guides in the name of shopping for your kids, and the next thing you know, you've added two pairs of shoes and a winter coat to your cart—and they're all for you! (Whoops.) 
I suggest taking a minute today to make a list of things you know you'll get at some point in the near future—things that you or your family legitimately want/need. Then, as the sales go live, just stick to your list. Commit to not getting anything off of it.
So, one more time, repeat after me: If I didn't need it before it was on sale, I don't need it now.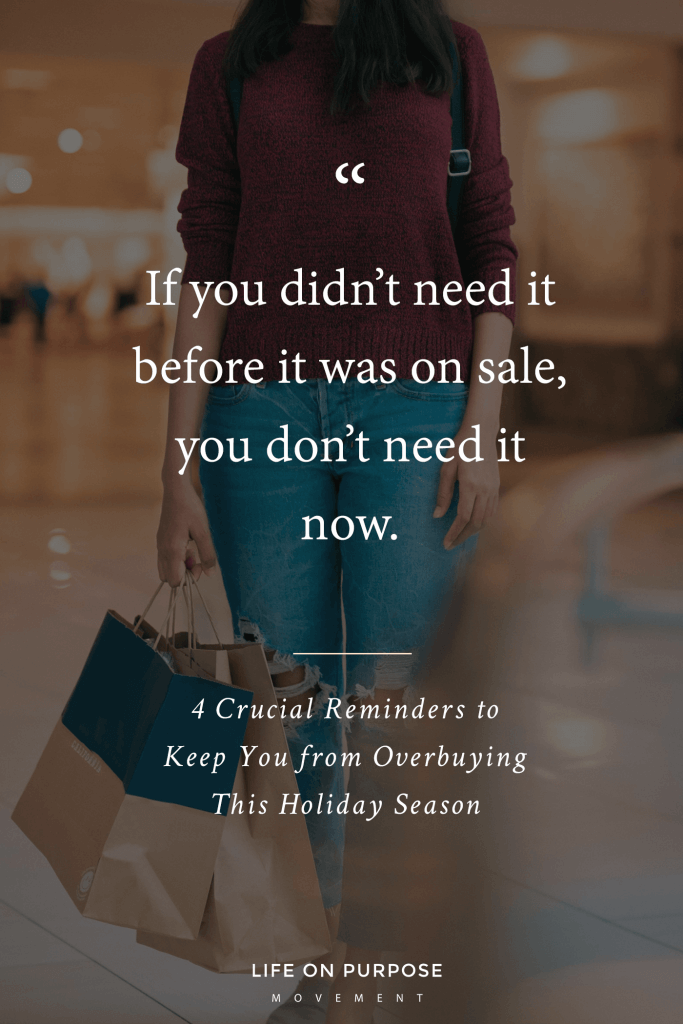 If that thought isn't enough to keep you from stalking the sales, here's another:  
2. If you buy something at a sale price that you don't actually need, you didn't save the difference—you paid the sale price.
If you buy something on sale for $100, when usually it is $150, you didn't save fifty bucks, you just bought something for a hundred dollars. So $100 is out of your pocket because it's not something you planned to buy or actually needed.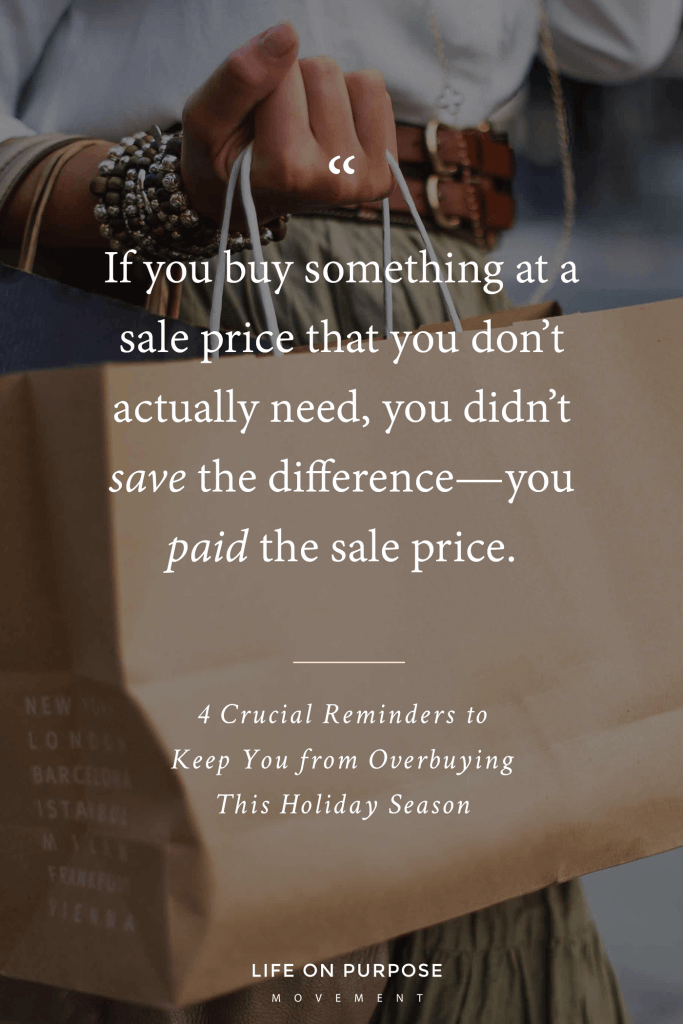 3. You don't have to own things to enjoy them.
You can delight in how beautiful a candle is—you can breathe its scent in—and then you can leave it at the store. 🤗
You can read an incredible book and add it to your list of all-time favorites—and then return it to the library.
You can admire and enjoy the holiday decorations in someone else's home—and display only a few favorites in your own. 🎄
You can attend a community light show or walk a brilliantly lit street, holding gloved hands with your kids, and then go home to the single strand of lights you've hung on your porch. ✨
Just know that if you want to, enjoying things without owning them is always an option. 😘
4. Everything you buy becomes something you have to manage. 
A friend recently told me this was the idea that started her on a path to minimalism. She read a single paragraph in the book Zero Waste Home where the author said that every decorative item sitting on a table is nothing more than something you have to dust.
She realized in that lightning-bolt moment that everything you own is something you have to take care of, so she immediately cleared off most of the surfaces in her house and instantly felt like she could breathe.
Think about it this way: 
At some point in the lifespan of any object you buy (no matter how good a deal you got on it!), you'll have to dust it, wash it, fold it, replace its batteries, fix it, put it away, and eventually, decide what to do with it when you don't want it any more. 
Everything you buy becomes something you have to manage. 
I love the line, "The things you own in life end up owning you." 
My goal is to live with less so that I can spend less time managing my life and more time living it.
Bonus Tip & Free Holiday Toy Cleanse Challenge
I'll leave you with one quick bonus tip. If you want to avoid overbuying this holiday season, do some decluttering! There's nothing like loading your trunk up with a bunch of things that you once wanted to remind you that stuff is just stuff. 
This December 1st, for the third year in a row, I'm hosting a decluttering challenge that's all about the toys! For three days, I'll send you a mini-lesson and a daily challenge via email. The purpose is to do a toy edit before we bring in anything new at Christmas. We'll also have a private, pop-up Facebook group—just for those three days—to motivate each other and share our wins. The Toy Cleanse is totally free: just sign up here!
---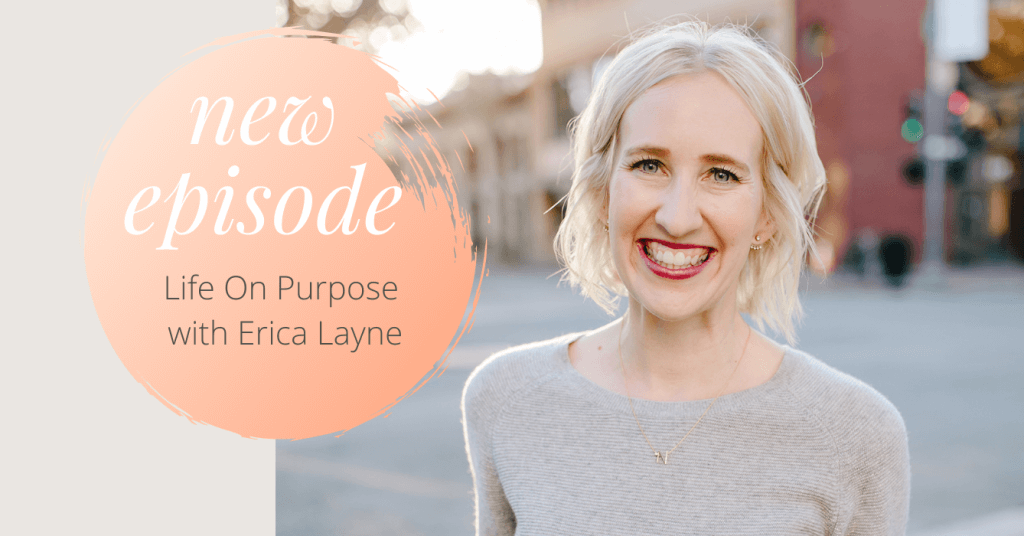 More from Episode 13 of "Life On Purpose with Erica Layne"
Here's what else you can hear in the latest episode of the podcast!
Self-Care Spotlight: A segment where I remind you not to neglect the person you spend all of your time with—you! Today, we discuss breathing into your stress rather than resisting it.
Off Ramp: A segment where I point out something I see women doing that I'd love for you to quit! In this episode I encourage you to quit hiding who you really are.
Need to Declutter the Toys? Join us for the 3-day Toy Cleanse challenge, starting December 1st! Visit here to sign up (it's totally free). 
Listen to the full episode in your favorite podcast app, or in the audio player below! And be sure to hit subscribe!
Apple Podcasts | Google Podcasts | Spotify | Overcast | Stitcher
Show produced by Callie Wright
---
xo!

[ad_2]

Source link