Healthy Mummy Cicily Goodwin, who has lost a HUGE 56kg with help from the 28 Day Weight Loss Challenge, has shared her recent amazing meal prep.
This gorgeous mum was able to make a whopping 281 meals and snacks and it only took her FOUR hours to make all these meals!
Cicily's also included a breakdown of how much she spent on each meal and how much it cost per serve. Some are under $1 per serve!
Scroll down to find out more…
It took Cicily 4 hours to make 281 HEALTHY meals and snacks
You don't have to spend all your time in the kitchen if you want to meal prep. All you need to do is set aside a couple of hours and you can make enough meals for the family for a few weeks, even a month!
In fact, it only took Cicily from 8.30am to 1.30pm to make all these amazing meals from the Challenge recipe hub, one hour portioning her meals into containers and another hour and a half tidying up.
(Read Cicily's weight loss story below)
Cicily, who suffers from hyperthyroidism, credits her incredible weight loss of losing 56kg to learning how to make healthy meals through the 28 Day Weight Loss Challenge.
What Cicily made:
Bean and Corn Tostada x 18  – one of Cicily's favourite recipes from her Healthy Mummy ebook
TOTAL: $29.93
PER SERVE: $1.66
Layered Meatloaf x 16 -one of Cicily's favourite recipes from her Healthy Mummy ebook
TOTAL: $56.86
PER SERVE: $3.55
One Pot Spaghetti Bolognese x 18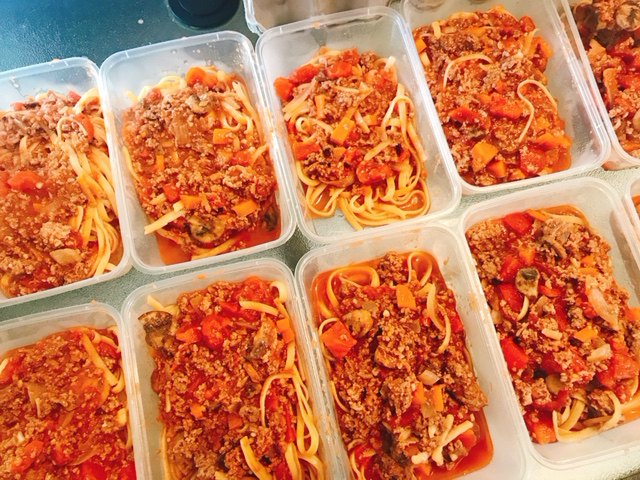 TOTAL: $62.16
PER SERVE: $3.45
Zucchini Bacon Slice x 24 – you can find this recipe on the Challenge app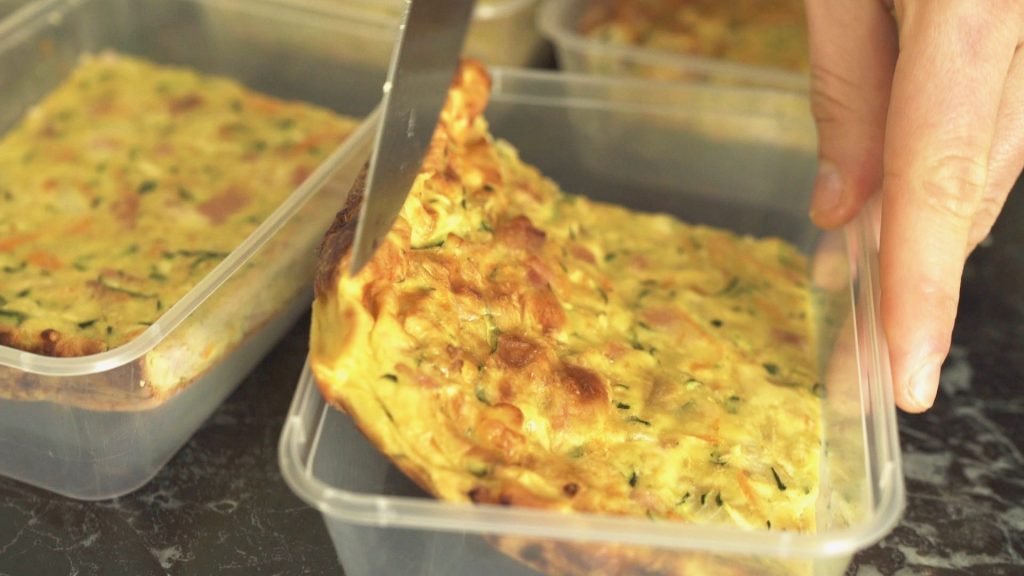 TOTAL: $57.70
PER SERVE: $2.40
Mexican Casserole x 16 – you can find this recipe on the Challenge app
TOTAL: $61.60
PER SERVE: $3.85
Hidden Veggie Sausage Rolls x 35
TOTAL: $47.70
PER SERVE: $1.36
Soba Noodles with Salmon x 12  –you can find this recipe on the Challenge app
TOTAL: $72
PER SERVE: $6
Salmon with White Bean Purée x 8  -one of Cicily's favourite recipes from her Healthy Mummy ebook
TOTAL: $53.70
PER SERVE: $6.71
Chocolate Weetbix slice x 24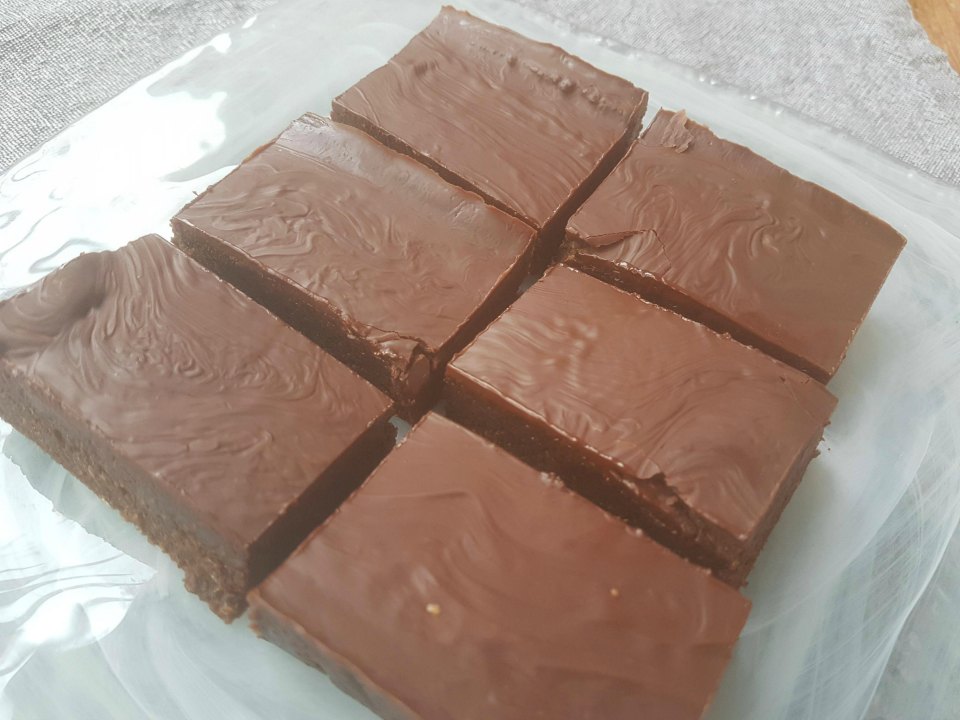 TOTAL: 26.60
PER SERVE: $1.10
Coconut Brownie x 24
TOTAL: $22
PER SERVE: 91c
Apricot and Oat Bliss Balls x 30– you can find this recipe on the Challenge app
TOTAL: $14
PER SERVE: 46c
Peanut Bubble Crunch x 32 
TOTAL: $17.50
PER SERVE: 55c
Wholemeal Choc Chip Muffins x 24  
TOTAL: $19.60
PER SERVE: 81c 
See Cicily's talk about her TOP TIPS for Meal Prepping
Cicily's top 5 tips for meal prep:
Use any empty template in your meal plan and add all the meals and portions you want to prep. Now you have a shopping list ready to go in the App. 
Order online if you can. This allows you to find all the ingredients you're going to need without running around the aisles looking for things. You also have time to check out the specials and find the best price for things! 
Choose recipes that are easy to do big batches of (save the more time-consuming ones for nights you want to cook a fresh meal). Things you can cook in one big pot on the stove, things you can cook in the slow cooker. 
Clean as you go. Wipe down benches, wash utensils, bowls, chopping boards, blenders as you go so there's not a huge cleanup at the end.
Use a food processor for less prep time chopping & grating veggies etc. 
The hardest part of meal prep
"Keeping up with all the different things you have going on at the same time. I recommend putting timers on or writing down the times for each thing, because it's easy to get mixed up when you've got 3 recipes cooking at once."
The best bit about meal prep
"It's such a great feeling to look at all the food you've cooked set out at the end, such a feeling of accomplishment and also so much motivation to stay on track."
How meal prep keeps you on track
"A few hours worth of cooking means you then don't have to think about dinners or snacks for the next month, you can just whip one out of your freezer stash! This also means you stick to your portion sizes and aren't tempted to just add a little extra to your bowl, or go grab takeaway on a late night home!"
How Cicily lost 56kg
Cicly reveals her health journey started when she decided to make a more conscious effort to check and monitor what she was eating.
"Hypothyroidism means I should avoid a lot of foods, and also strive to eat a lot of certain foods. This is where the Challenge recipe hub was amazing! I could search for specific ingredients," she says.
"Things like dairy, eggs, nuts, beans, chicken, beef, seafood and most vegetables are great for thyroid health. Highly processed foods also affect my thyroid negatively too."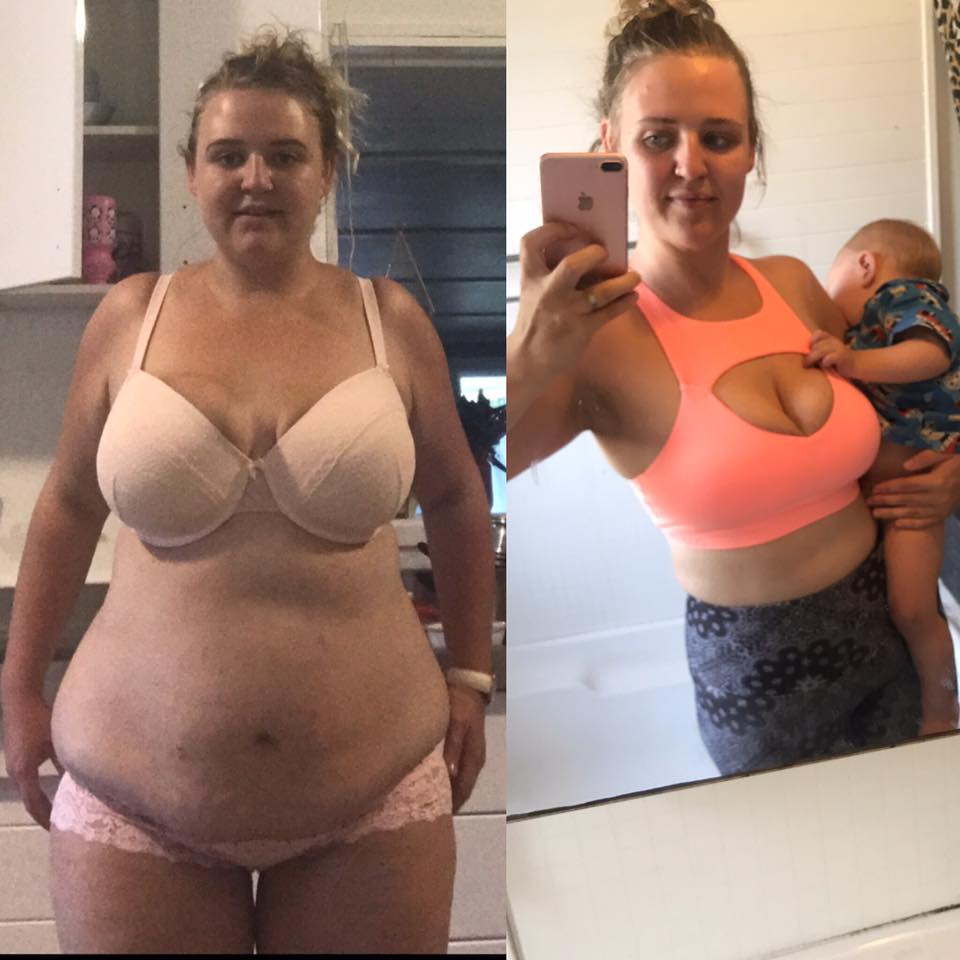 Before that, Cicily reveals she used to buy maternity clothes when she was at her heaviest.
"I used to buy maternity clothes just because they were stretchy and forgiving. Now I can buy tight denim," she says. "I used to buy daggy undies, now I buy whatever I want because it all comes in my size.
"I used to wear size 24 tights, now I can fit both of my legs in one leg hole."
How meal prep helps Cicily maintain her weight loss 
"I have one to two healthy mummy's premium smoothies a day and eat healthy mummy's recipes for dinner and snacks.
"Now that I'm not eating to a calorie deficit to lose weight, I tend to not be as strict all the time, and spice up my recipes a bit by adding things I love, or even just eating out occasionally and not worrying about it.
"Because I stick to The Healthy Mummy's lifestyle most of the time, those occasional splurges level out (as long as you keep consistent between!)."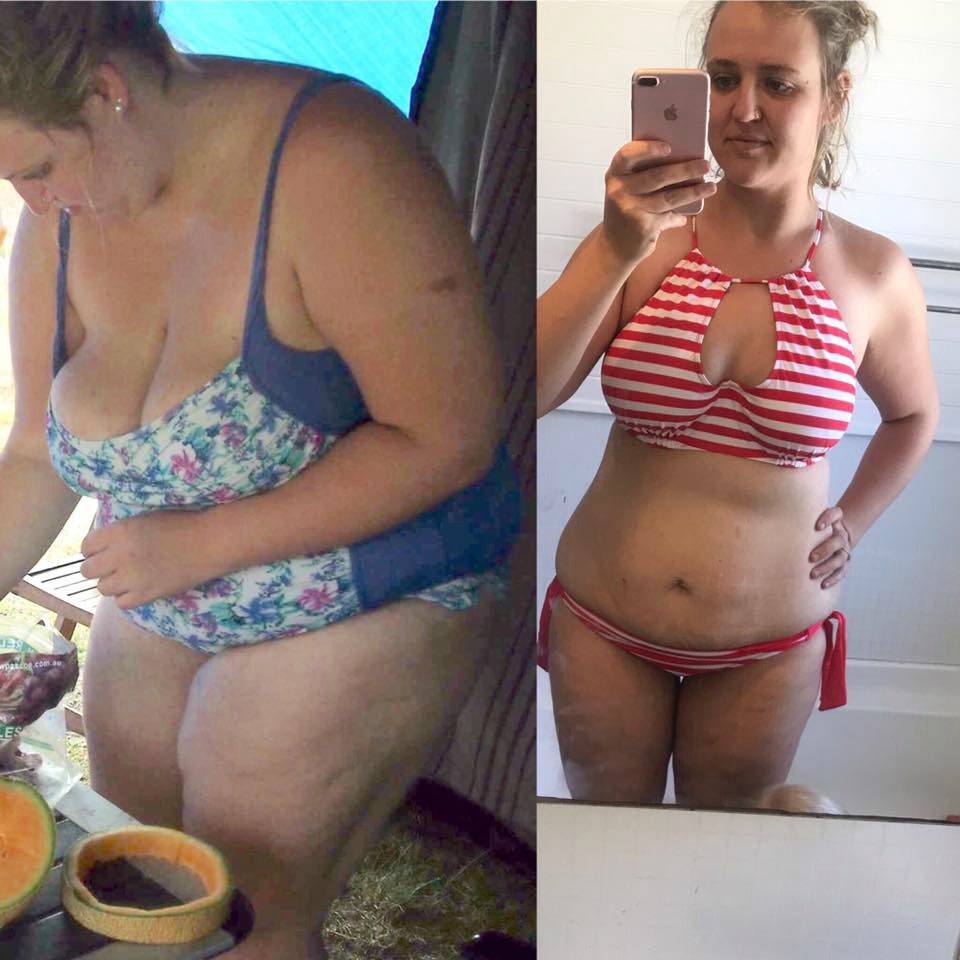 Cicly's tips for those wanting to lose weight:
Make weekly goals for yourself e.g: Go for a walk three days a week, have a Healthy Mummy smoothie daily, follow your meal plan, do home workouts on the app 3 days a week etc. 
Take photos weekly in the same position, same angle, same kind of clothing – so you can track your progress.
Drink water! I drink 2-3 litres per day. 
Think about where you want to be, and figure out what you need to do weekly to get there. For example, 700grams per week is 36.4kg per year weight loss. This is a realistic and achievable weekly goal that I averaged throughout my 56kgs weight loss over 18 months. 
GET COACHED by Cicily
Amazingly, you can  join Cicily on The Healthy Mummy app and get coached by her.
Join the 28 Day Weight Loss Challenge!
If you are inspired by Cicily's weight loss story and want to take care of your health and weight then you need to check out our 28 Day Weight Loss Challenge.