[ad_1]

We've been living in Vietnam for over six months and I barely tried the street food, haven't had the chance to trek in northern Vietnam nor to go on a train journey along the coast. If you know me a little, you know this isn't me. Well, this the pregnant / it's too hot / omg the mosquitoes / aoutch my bac!k- version of me.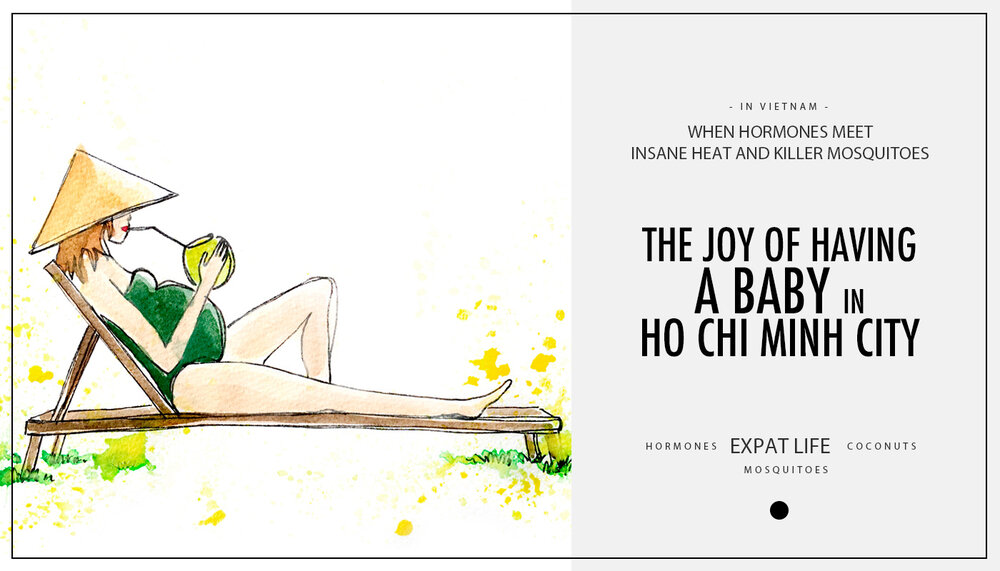 It's not my first time having a baby abroad –I gave birth to Noah in Hong Kong two years ago. At that time, we knew the city pretty well and felt like home over there. My experience in Vietnam was way different : I got there four months pregnant, without any idea how things would work. The heat, the mosquitoes, the people in the street, the shopping, the chocolate ice cream in bed –discover the joy of being pregnant in Vietnam!
---
the joy of having a baby in ho chi minh city : when hormones meet insane heat and killer mosquitoes
Breaking news : it's HOT in Vietnam! And if life under the sun might seem like heaven for some, we have been living under an average temperature of 32 degrees celsius for the past seven years -so my patience has reached its limit. With a giant belly and my hormones going crazy, the heat drove me INSANE. I was on survival mode during the whole pregnancy, then the fight continues now, to keep my baby comfy despite the intense weather.

Mosquitoes, my dear ennemies. It's funny how, during my first pregnancy, we refrained from traveling in Southeast Asia to avoid any risk of catching the Zika virus, and now we are living in Vietnam for our second baby. The dengue fever is the higher risk actually, especially in our district. The solution ? To wear pants and long sleeves at all time. Oh joy ! Refer to the first point above -it's freakin' HOT!

For all the advices I didn't ask for, thank you. Having a baby in Vietnam is like being pregnant in a world where you would cross your mother AND your mother-in-law in every corner. I know it comes from honest kindness, but it drives me crazy to hear people I cross in the street, in the supermarket or in the elevator lecturing me on how I should carry / feed / dress / raise my child. I mean, we all know family lives for that, and that's more than enough!

Sometimes annoying, but always kind. In many countries in Asia, it is common to stay confined home for one month after giving birth. So when people meet me with my newborn in a cafe, they are amazed. Same thing during the pregnancy –I've had taxi drivers getting down the car to open my door like a private chauffeur, security guards insisting on carrying my bags for me, waitress bringing me water before I had time to ask for it. That's one of the many reasons traveling in Southeast Asia with a baby rocks.

The magic of delivery services in Ho Chi Minh City. Or how it kept me (kinda) sane during my three weeks of bedrest. You can get anything delivered here, I mean ANYTHING. Your pizzas and poke bowls, certainly, but also your fresh fruits from the market or your 5pm ice cream crave. It SAVED me –together with my friend Netflix, obviously.

You can't have it all. In Vietnam, you have the heat, the pollution and the mosquitoes, but… you also have baby and breastfeeding friendly places everywhere. Kind people. And beautiful energy around the kids.
some tips on having a baby in ho chi minh city
baby shopping
Baby shops in Ho Chi Minh City
Oaoa Baby is one of the most reasonable in terms of prices as well as Baya. Mega Market is also an option for cheap furnitures. More expensive, Mothercare is a good option for quality furnitures, toys and baby clothes. My favorite stops for baby gifts are Albetta and Copenhagen Delights in Thao Dien. If you're looking for second hand, check out Facebook groups such as Saigon International Families or Saigon Kids' Stuff.

Newborn clothes
If you're having a tiny baby like we had, you might struggle to find newborn clothes that fit. Better to plan ahead and buy online or back home in Europe. It seems like babies are bigger here.
international hospitals
FV Hospital
The French Vietnamese hospital. Excellent service, with some of the staff speaking French. Most of the expat community go either there or in Hanh Phuc. They're both equally recommended.

Hanh Phuc Hospital
Great service, it was our choice for Zoé, and it was absolutely perfect for us. I highly recommend Dr Riché, French gynaecologist in Saigon for the past ten years.
Paperworks & visa
Birth certificate and passport [infos for French only]
First step: take an appointment at the French Consulate to declare your baby's birth. The hospital will give you a delivery certificate upon leaving -that you will need for that matter. The Consulate will give you the birth certificate straight away. Then you will have to take an appointment to apply for your baby's passport. Now your mission is to take an ID photo of the little one -good luck with that! His passport will be ready in 3 to 4 weeks.

Exit visa
Even though your baby didn't enter in Vietnam via the immigration –as you know, she was in your belly-, she needs a passport to get out of the country. It's called an Exit Visa, takes about 7 days to be done and costs about 120$. It can be done via an agency. Your baby won't be allowed to leave Vietnam without that visa on her passport.
Don't miss a post !
Sign up, get inspired.
Thank you!
[ad_2]

Source link