[ad_1]

Taking your dog hiking doesn't necessarily require a trip to the mountains. In fact, some American cities offer excellent dog friendly urban hiking options.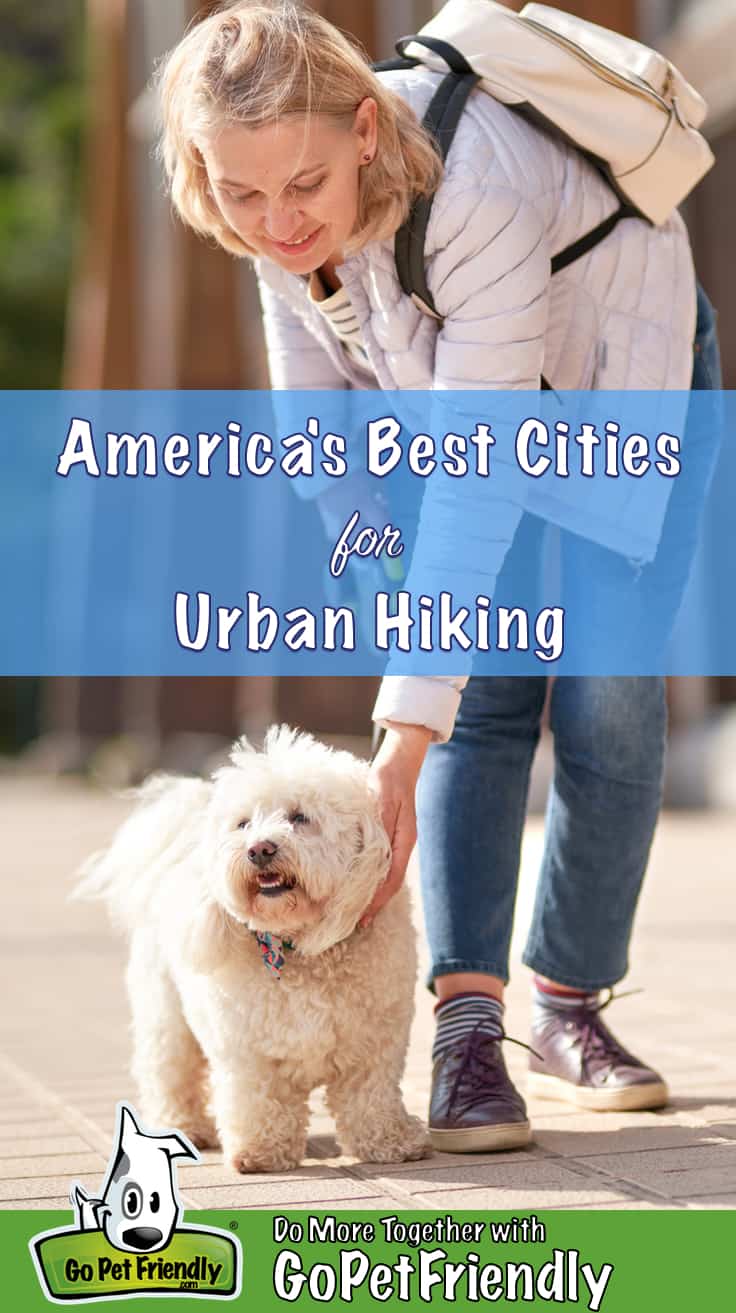 Why Urban Hiking?
I love hiking in the wilderness. The seclusion, sounds of nature, and breathtaking views feed my soul.
My husband's perfect hike combines sidewalks, window shopping, outdoor cafés, and stunning architecture.
I wear hiking boots; he prefers a good pair of flip-flops.
Water, snacks, and a first aid kit are necessities when I plan our outings.
He relies on his intuition and a bit of luck to find everything we'll need along the way.
The good news is, whether you're like me or my husband, your pets will probably be happy either way. As long as you're sharing the goodies with them!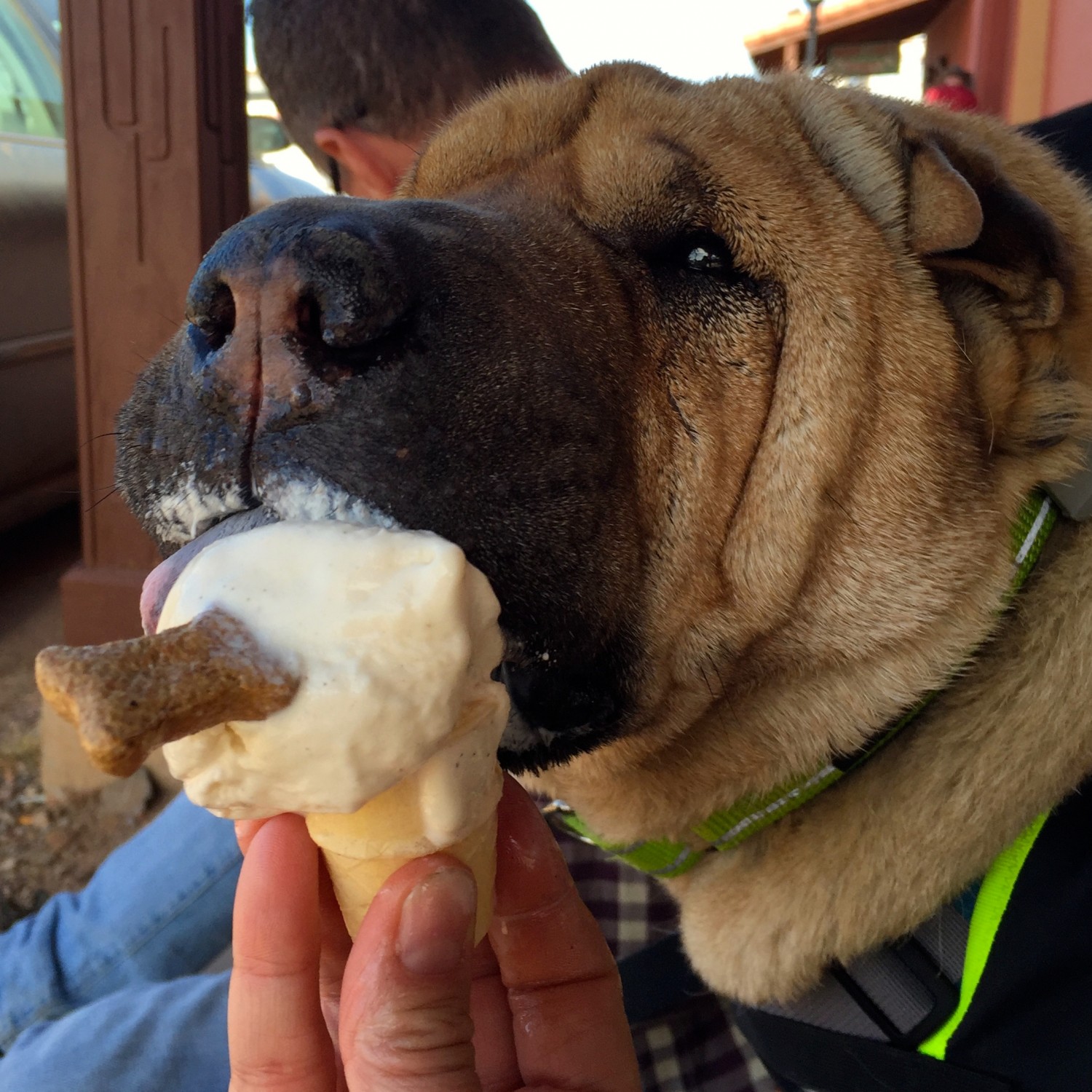 You might imagine that such opposite views on one of our favorite activities would cause conflict in our household. But that's not the case!
We've been lucky enough to find cities where there's middle ground. So, lace up your sneakers, and check out our top 10 cities for dog friendly urban hiking!
Top 10 Cities for Dog Friendly Urban Hiking
Austin, Texas
Accessible from anywhere in downtown Austin, the Butler Hike and Bike Trail is a gravel-covered, 10-mile loop around Ladybird Lake. Offering an enchanting way to experience the city, it's popular with bikers, walkers, runners, and dogs on leash.
From Zilker Park to the Rainey Street Historic District, this tree-lined gem connects some of our favorite parts of the city. And jumping from the trail to the city streets in search of something to eat or drink along the way is a cinch!
READ MORE ⇒  

Austin's Top 10 Dog Friendly Things To Do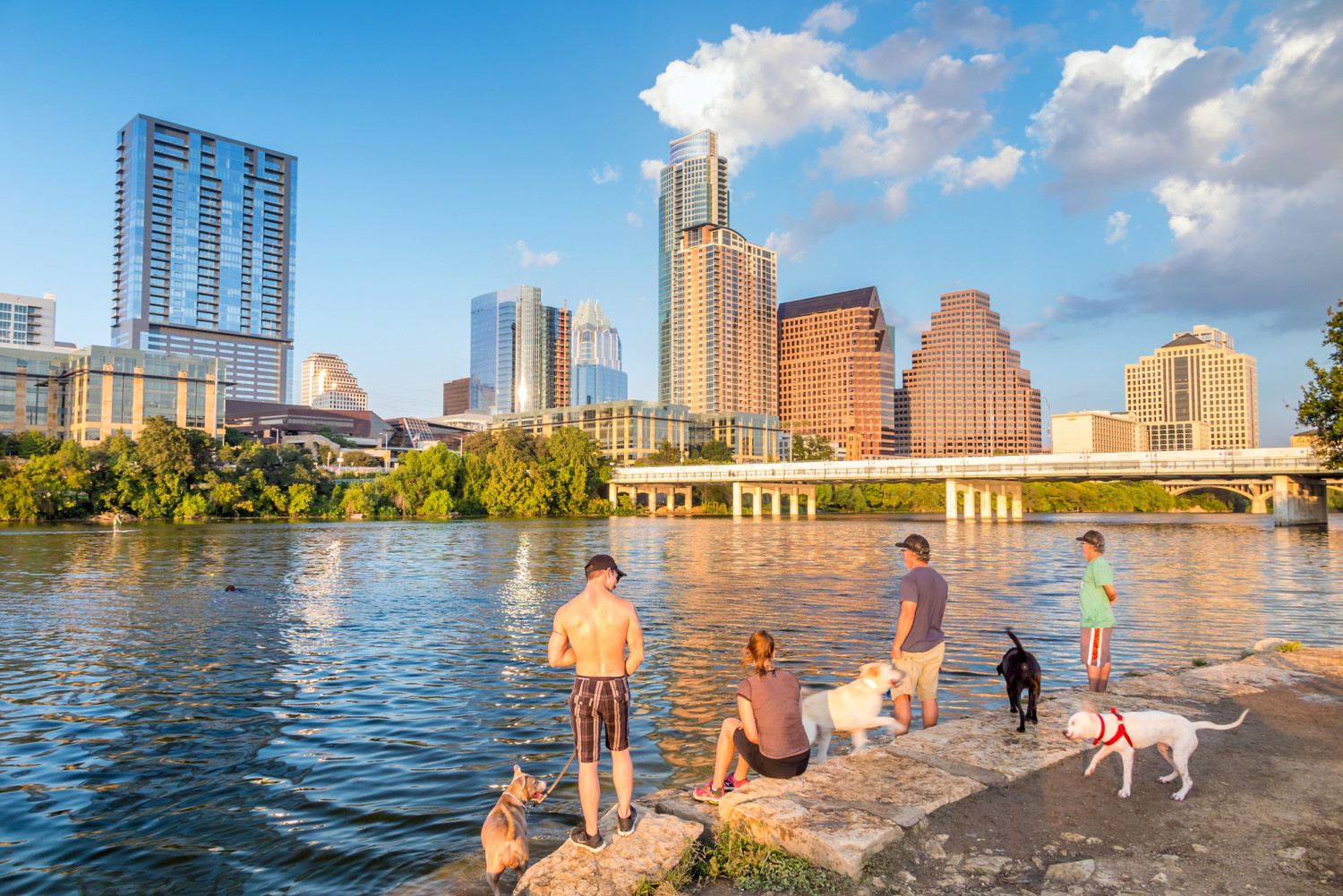 Boston, Massachusetts
Boston's The Freedom Trail is a 2.5 mile route that leads you past 16 Colonial and Revolutionary historical sites. Boston Common, Paul Revere's house, the Old North Church, and Faneuil Hall are are located along the trail. Laid out on the city sidewalks with red bricks, it's easy to follow, and you'll also pass parks, eateries, and lots of interesting shops along the way.
While it can be quite crowded on the weekends, you and your dogs will be able to avoid much of the foot traffic if you follow the red brick path from the opposite side of the street (it's easy to see).
READ MORE ⇒ 

Walking Boston's Freedom Trail with Pets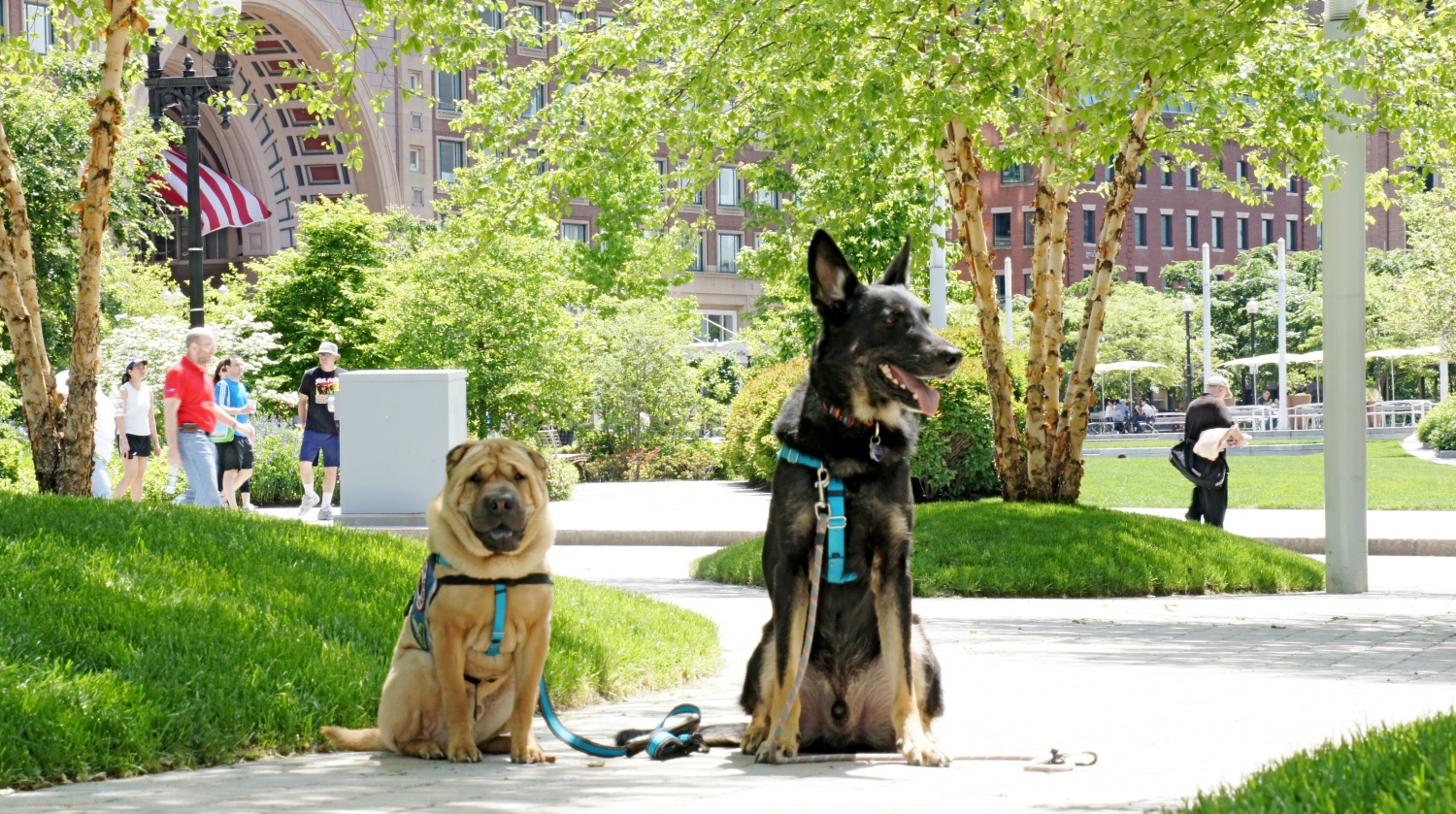 Chicago, Illinois
Lake Michigan is one of Chicago's main attractions, and the 18-mile Lakefront Trail is the perfect way for you and your dog to enjoy it! This paved path winds along the beaches and parks that run between the city and the lakeshore.
Don't miss Navy Pier, where leashed dogs are welcome at most of the restaurant patios, and Montrose Dog Beach, if your pup likes to swim. The architectural boat tour and water taxis are also pet friendly!
READ MORE ⇒ 

 

Chicago's Lakefront Trail and Navy Pier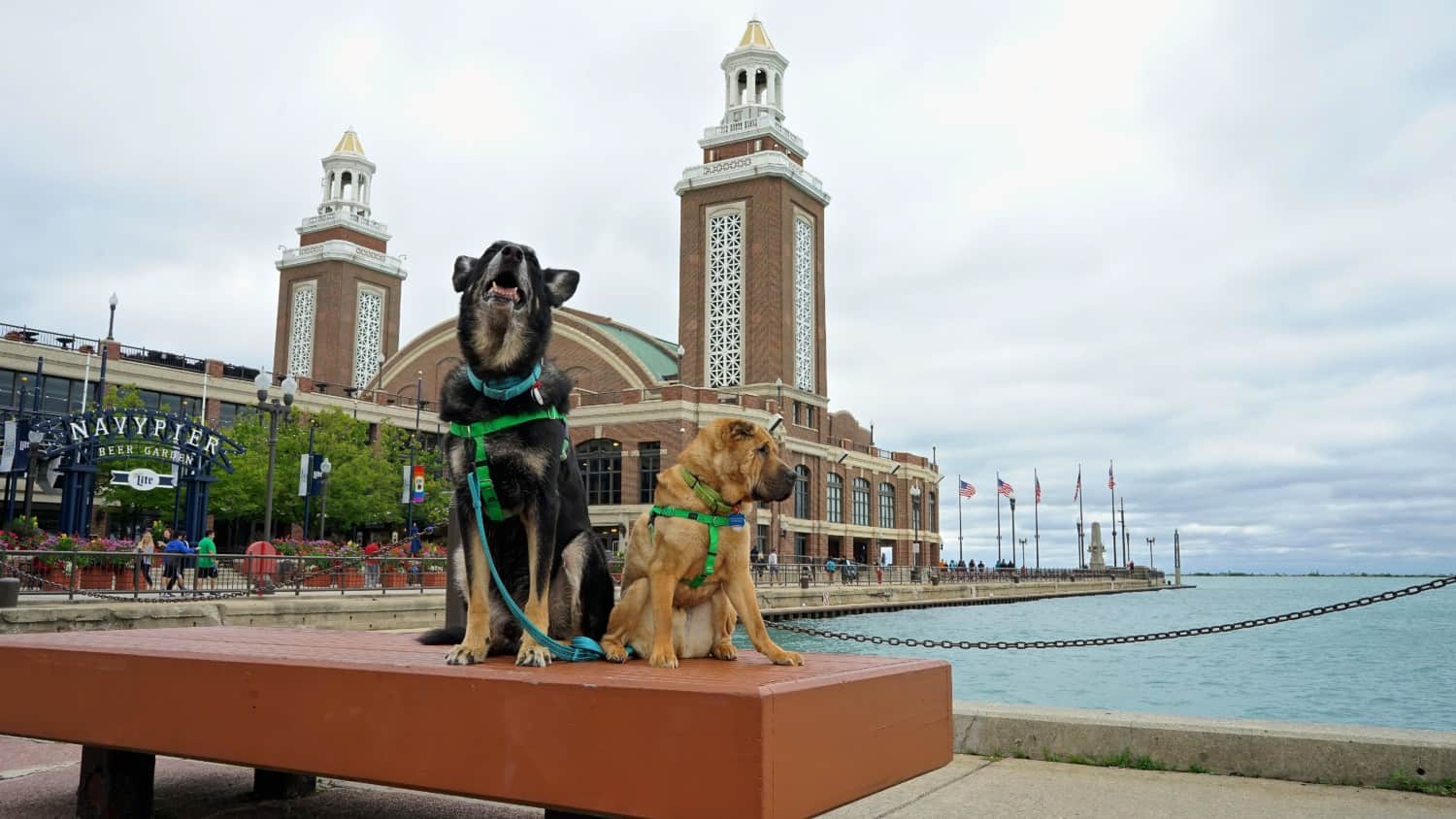 Los Angeles, California
At over 4,000 acres, LA's Griffith Park is the largest municipal park and urban wilderness area in the United States. There are over 50 miles of trails, bridal paths, and fire roads for you and your dog to explore together.
If that's not enough, head over to Runyon Canyon Park where dogs are welcome off-leash on 90 of the 160 aces. Keep an eye out for celebrities who walk their dogs in the shadow of the Hollywood sign.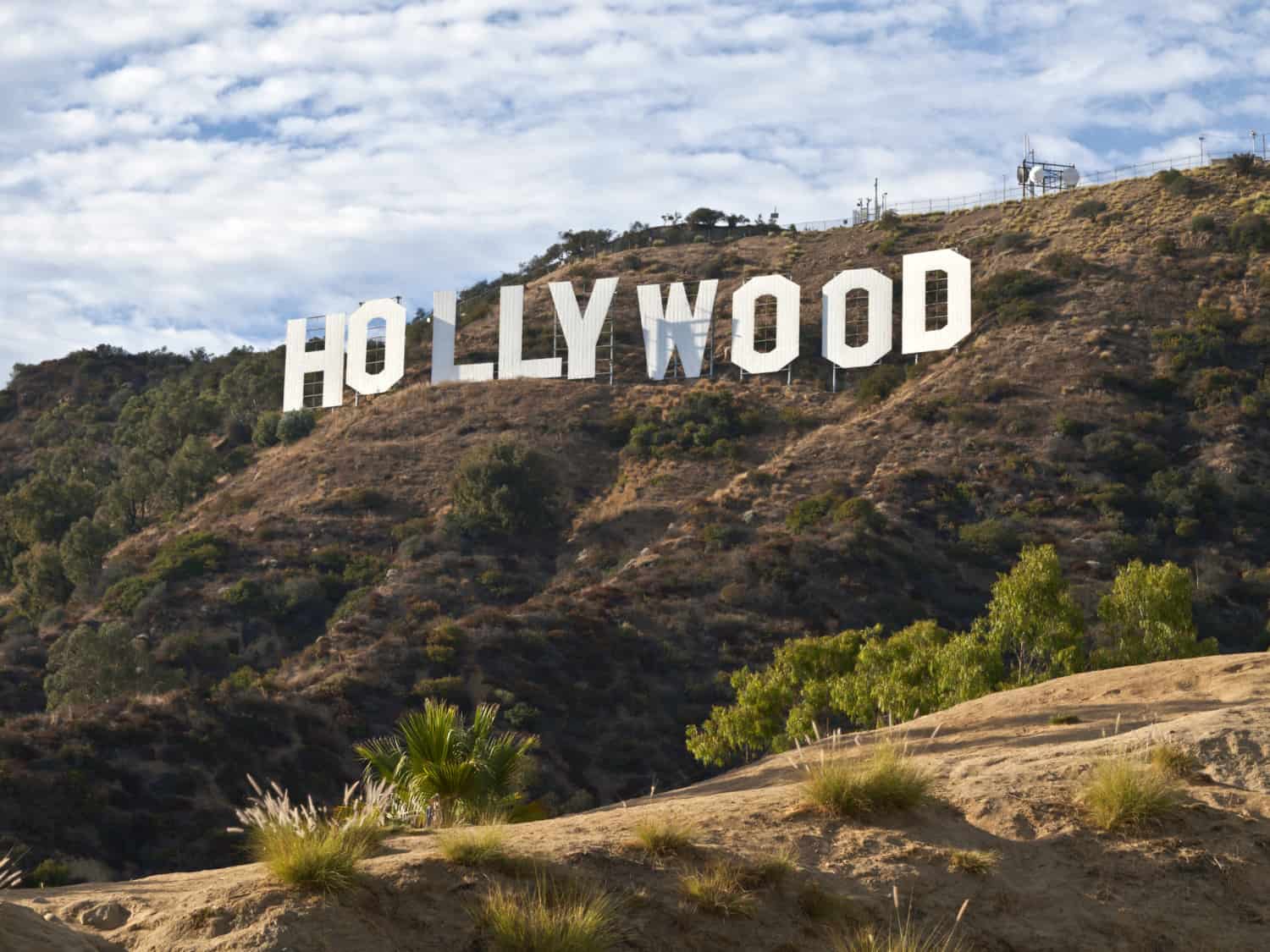 Milwaukee, Wisconsin
The Oak Leaf Trail is Milwaukee's crowning glory. Utilizing paved paths and city streets, the trail connects all of the county's major parks, with nearly a quarter of its 115 miles hugging the shores of Lake Michigan.
For the best urban hiking experience, start with the section that winds through Milwaukee's East Side neighborhood and follow it down to the 3rd Ward.
READ MORE ⇒ 

 

So Much To Do In Pet Friendly Milwaukee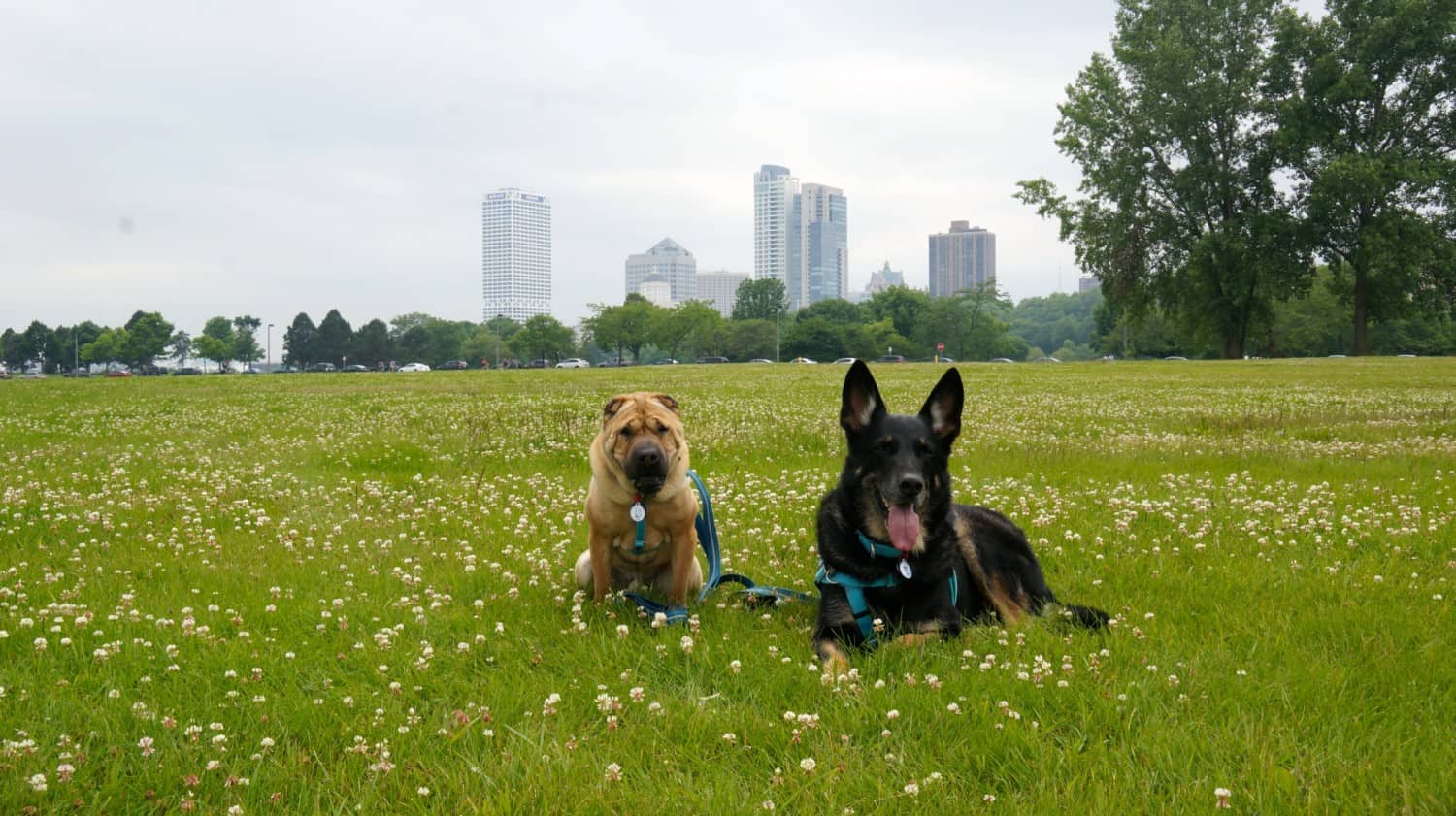 Minneapolis, Minnesota
Minneapolis has two spectacular options for urban hiking. The first is the 12-mile interconnected web of trails surrounding Cedar Lake, Lake of the Isles, Lake Calhoun, and Lake Harriet — otherwise known as the Chain of Lakes. Here you can experience spectacular views, quiet overlooks, and woodsy ambiance in the middle of a major metropolitan area.
Or make your way to the Mississippi National River and Recreation Area, which protects a 72-mile stretch of the iconic river that separates the twin cities of Minneapolis and St. Paul. Don't miss the High Bridge Dog Park if your pup likes to socialize off-leash with the locals.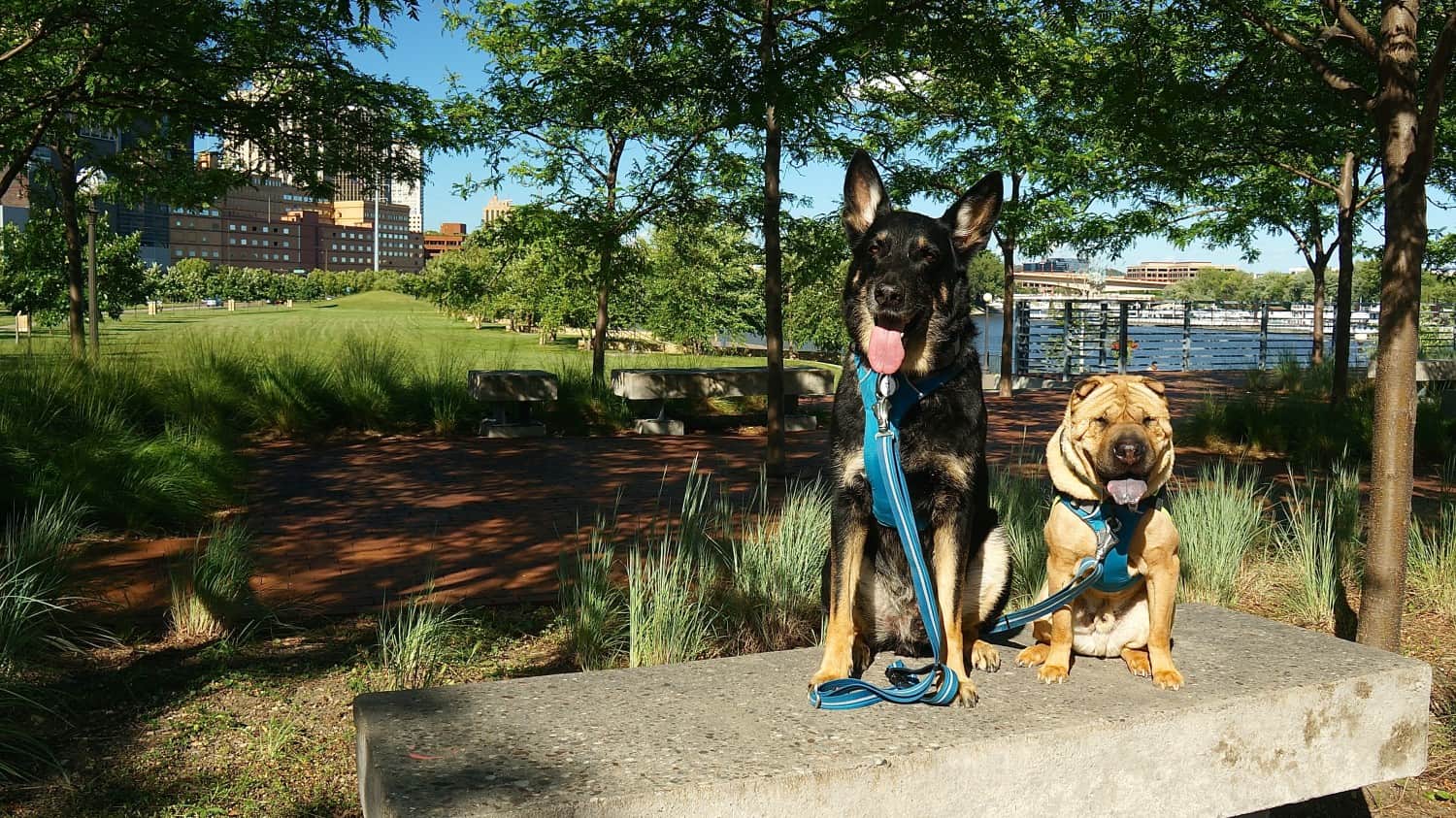 New York, New York
Of all the urban hiking we've done, New York's Central Park offers the most striking contrast between metropolis and wilderness. Covering 843 acres in middle- to upper-Manhattan, this is one of the most visited urban parks in the country.
Luckily, most people stick to the edges, leaving the vast middle for exploring with your dog! The streets through Central Park are closed to vehicle traffic on the weekends, and it takes an entire day to meander from one end of the park to the other and back.
READ MORE ⇒

   

A Day In New York's Central Park With Dogs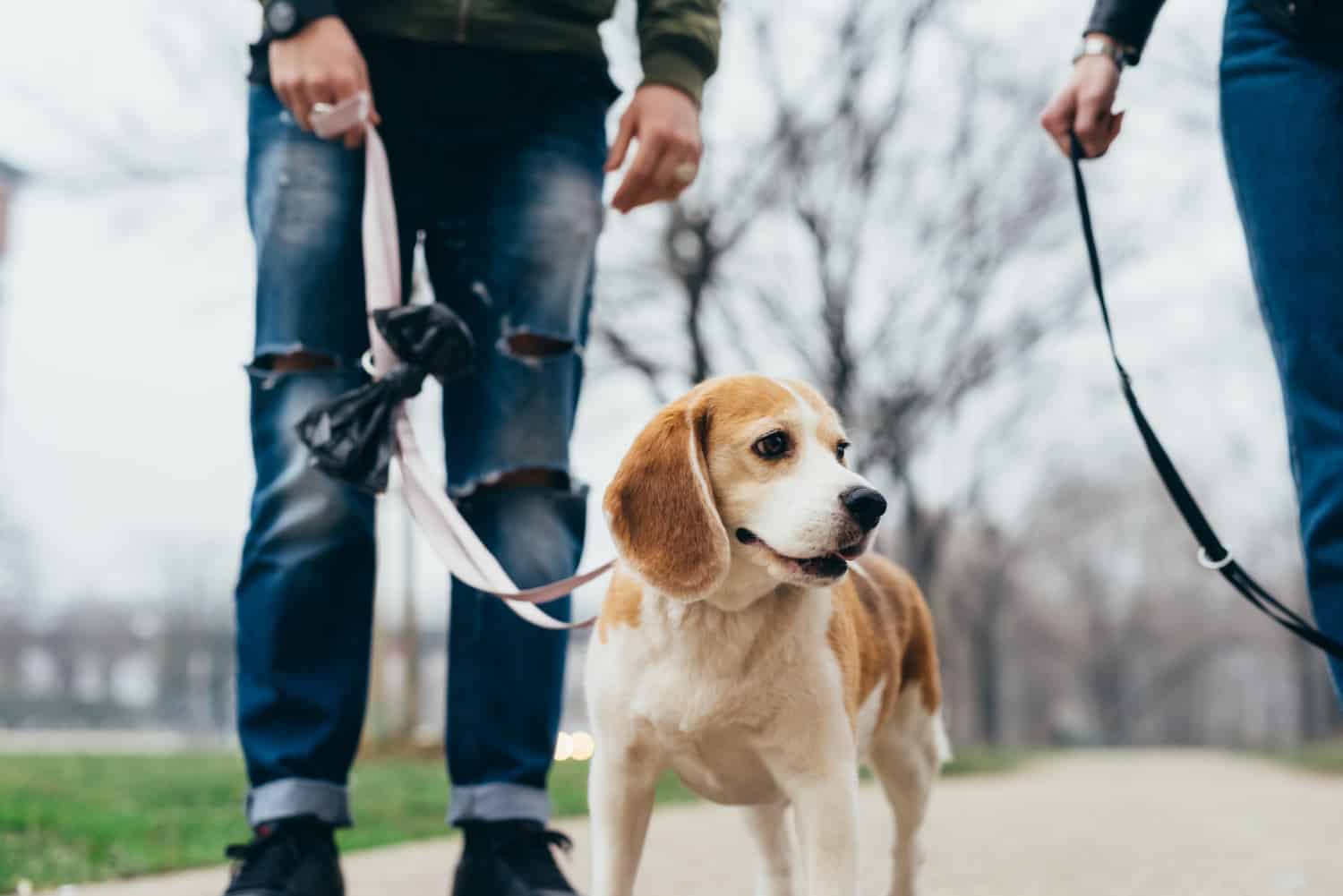 Portland, Oregon
Portland is an urban hiker's dream! The Eastside Esplanade runs along the Willamette River and serves up some great shots of the skyline. The path through Waterfront Park follows the west bank of the river and offer easy access to a myriad of eateries and food truck pods. And Forest Park flanks the hills on the west side of the city, boasting more than 70 miles of hiking and walking trails.
As if that weren't enough, both the Crystal Springs Rhododendron Garden and International Rose Test Garden welcome your dog to join you for a stroll!
READ MORE ⇒ 

Portland's Great Options For Exploring With Your Dog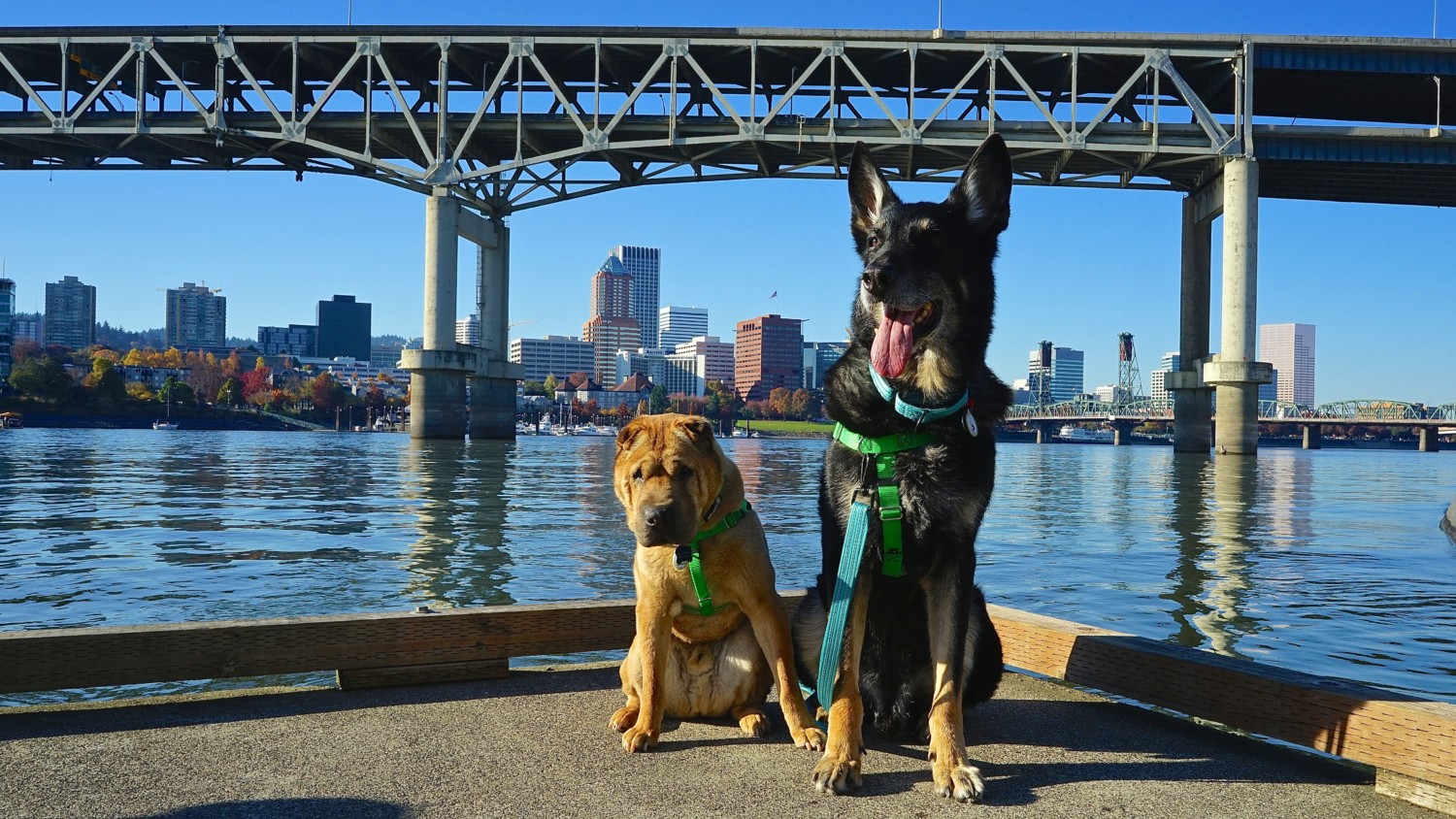 San Diego, California
At 1,200 acres, San Diego's Balboa Park is one of the largest urban parks in the country. It's also the oldest urban park in the United States dedicated to public recreational use. In addition to wide open spaces, the park has gardens and walking paths, and a fenced dog park.
You'll also find museums, several theaters, and the world-famous San Diego Zoo. Vendors and food trucks are scattered throughout the park, so you're never far from snacks and drinks.
READ MORE ⇒

 

Top Dog Beaches in San Diego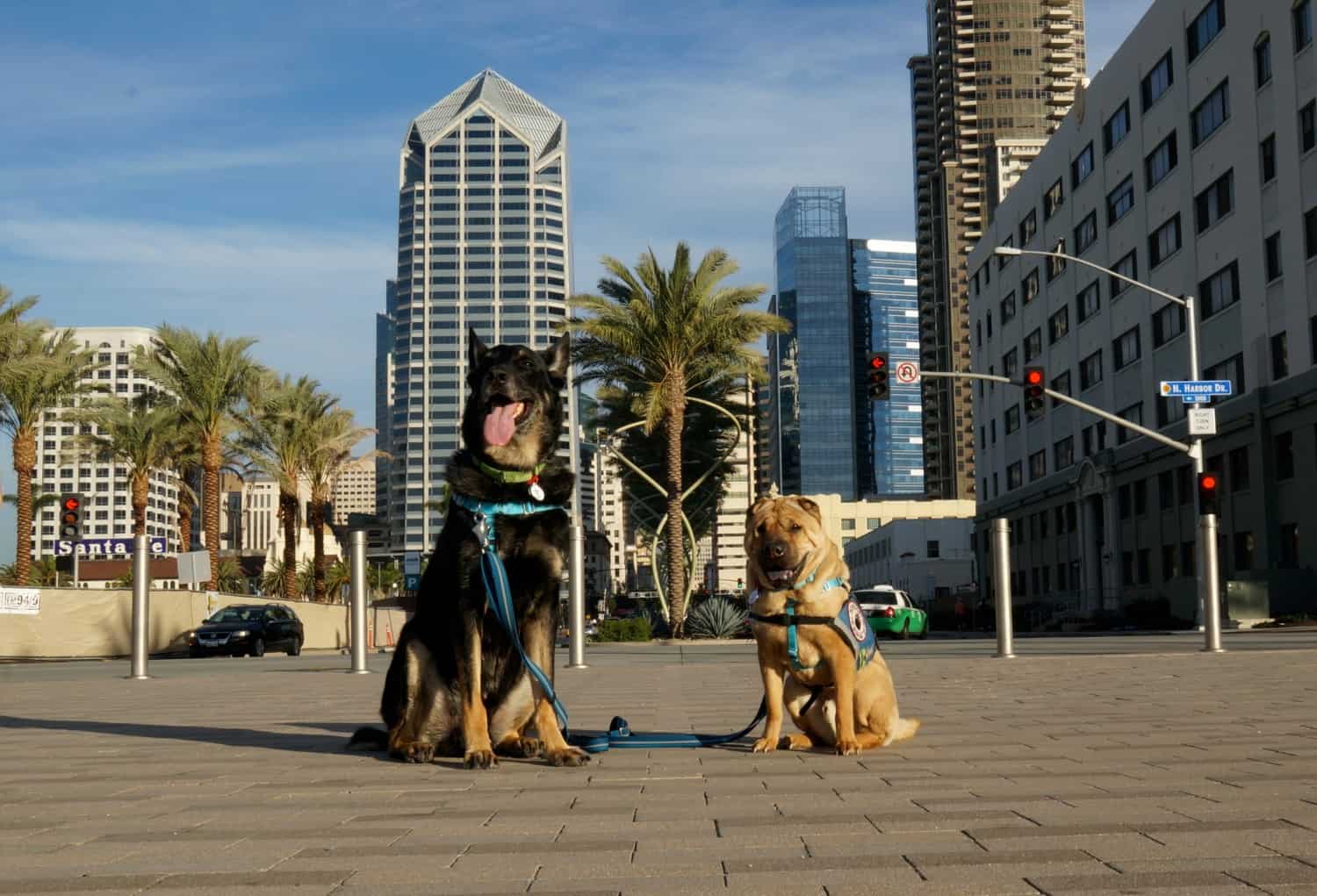 Washington, District of Columbia
The National Mall in Washington, DC offers a great opportunity for dog friendly urban hiking! Stretching for two miles, it's home to some of America's most famous buildings, structures, and memorials.
Spend a day and walk from the US Capital, past the Smithsonian's National Air and Space Museum and National Museum of Natural History, by the Lincoln Memorial and the Washington Monument, to the World War II, Korean War, and Vietnam War memorials, and the Holocaust Memorial Museum.
Of course, dogs cannot go inside the buildings, but there's still plenty to enjoy together! You'll also find interesting eateries, food truck, and many, many park benches where you can rest your paws.
READ MORE ⇒

 

Seeing Washington DC's Best Sights With Pets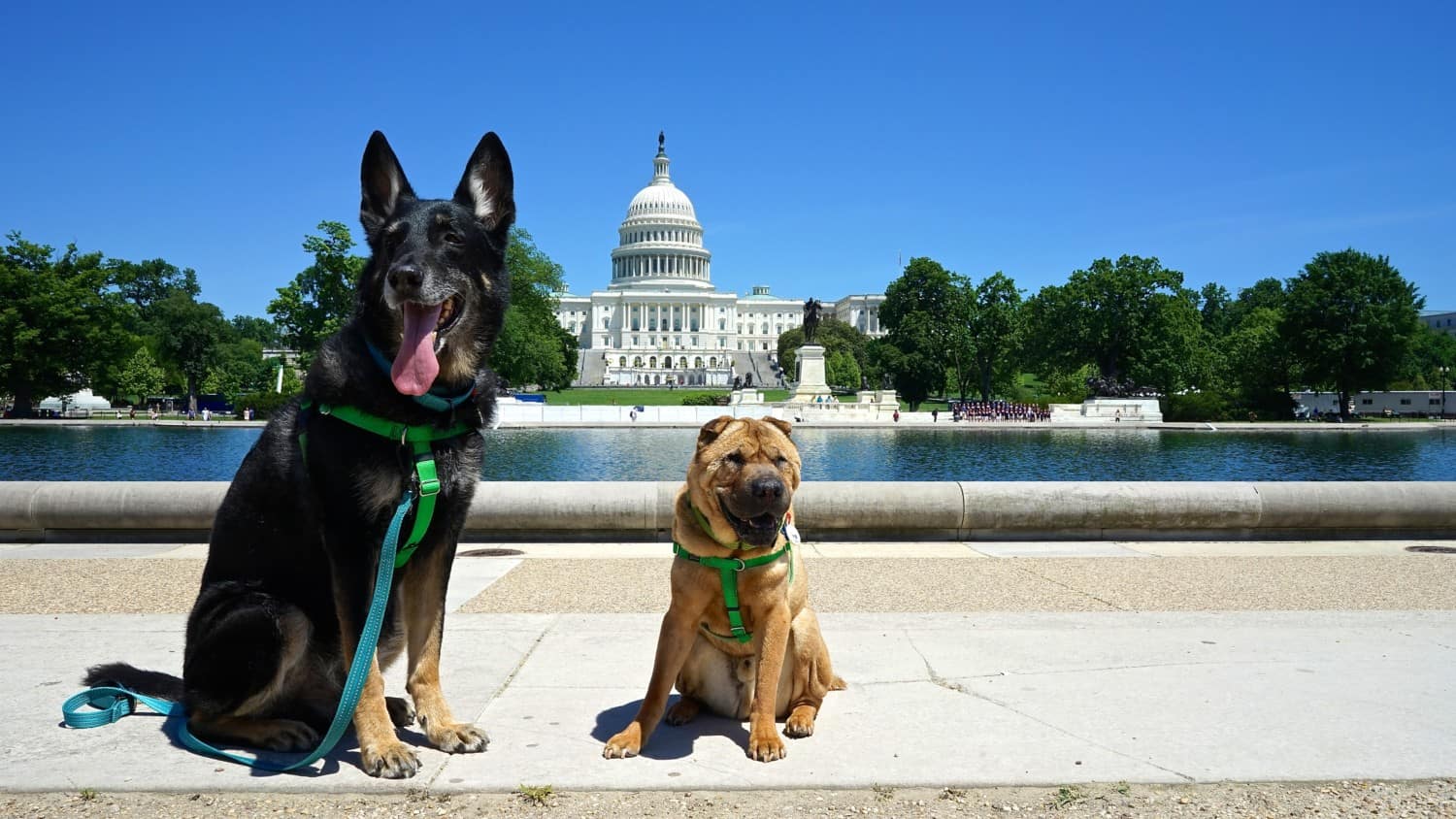 The next time your hiking buddy suggests getting out without leaving town, we hope these dog friendly urban hiking ideas encourage you to explore more together!
Please share your urban hiking recommendations in the comments below.
(Visited 2,304 times, 1 visits today)
[ad_2]

Source link