[ad_1]

Temperatures in Lapland can get truly extreme -sometimes down to -30°C. Packing for a trip in the Polar Circle requires some organisation. But when you plan to travel in Finland with a baby, it's a whole different level…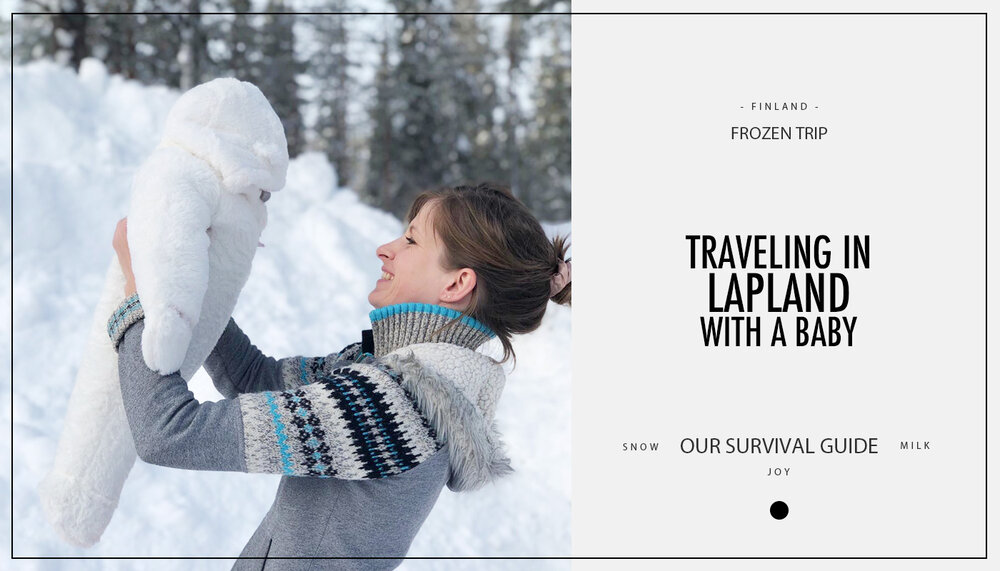 Let's be honest : there isn't any point taking a young baby to a freezing destination such as Lapland. But you don't always have a choice. Let's say your brother gets married in Lapland and you're still breastfeeding –per example. I have to admit, when I started packing I panicked a little bit –I was scared of my baby's tiny little hands and feet freezing. But once we were there, I realised it's a picnic -as long as you have the required gear for extremely cold weather. What to pack, what to expect, discover our survival guide to traveling in Lapland with a baby !
---
traveling in Lapland with a baby: our Survival guide
I'm all in to take my kids everywhere, all the time, but that trip was our very first in extremely cold weather. We were expecting snow storms, freezing temperatures, frozen hair, the whole thing. It can't go well without a plan. Luckily we were all set and ready for the worst case scenario !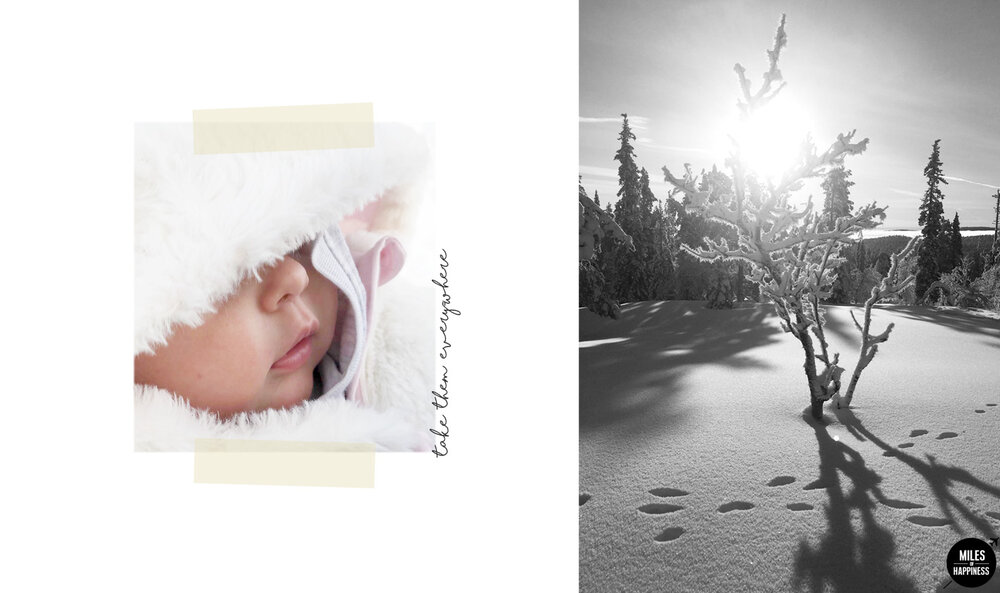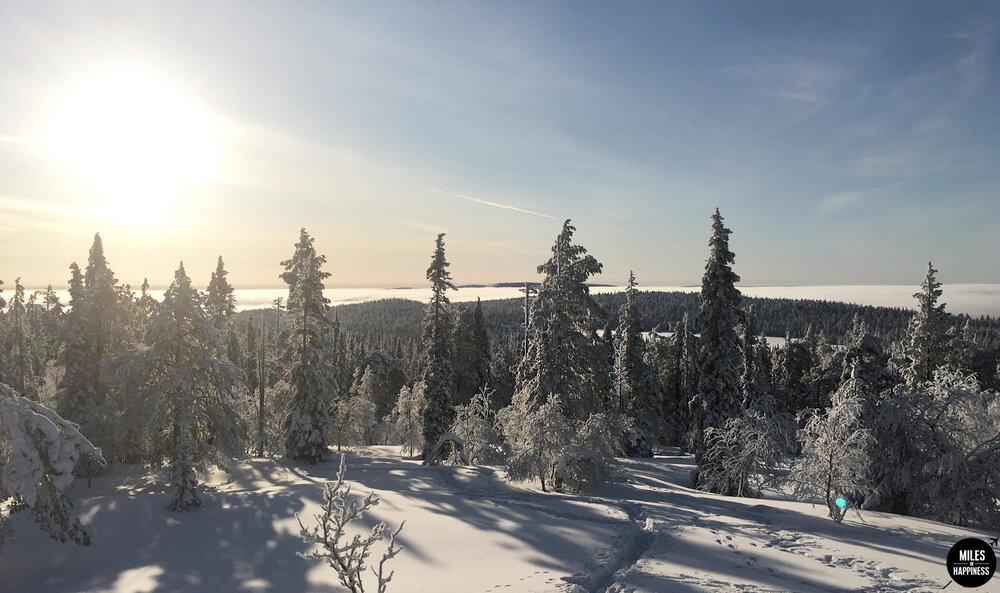 TRAVELING IN LAPLAND WITH A BABY : WHAT TO EXPECT ?
Airports in Lapland are very small, so you won't get stressed by the crowd. BUT if you want to escape quickly and get to your accommodation early, I would advise you to run and queue to your rental car desk as soon as you can. In Kittilä, the staff was super friendly -so friendly it took them forever to serve three clients. So Zoé was in da place to put some very, very loud music in the whole airport. For. Twenty. Minutes. Also, the obvious: don't forget to rent you car online in advance and precise you want the Isofix car seat, so you don't end up with an old (and less safe) version.
Don't even think about taking a stroller, unless you've got a big one adapted for the snow. I've chosen the baby carrier as, not only it was more convenient, but it was also a good way to keep my baby warm –and also myself!
The English level is not always good, but there's always a way to communicate when it's about putting a bottle of milk in the microwave in a cafe or a restaurant. If, like me, you usually travel in Asia, you might be disoriented by the people in Finland -even when they're being super nice, they often keep a serious face. Which is strange when you're used to the legendary smile of locals in Southeast Asia*. Anyway, we met some lovely local people in Finland.*Oh and it's not a criticism, I'm from France, so I wouldn't dare!
If you are planning to do some activities with your baby, don't forget your baby is NOT moving –not like you– so don't forget to keep her warm and cosy at ALL TIME.
TRAVELING IN LAPLAND WITH A BABY : WHAT TO PACK ?
Remember your last trip at the beach with one little bag for the whole family? Well, forget about it. Prepare for 23kg of layers! On top of the obvious milk and diapers, here's our checklist for a trip in Lapland with a baby :
Hand and pocket warmers : Ideal to put inside your baby's coat, near her hands or feet whenever it's getting too cold. Never directly on her skin. It's also your best friend when breastfeeding outside…

Clothing : layers, layers, layers ! I chose a great outfit designed by Reima, a Finnish brand. It's made with Merino wool, it's super soft on the babies' soft skin and super thin. I took a long sleeves bodysuit plus a pair of pants, and an all-in-one as a spare outfit. On top of that, she worn a winter pyjama, and two jumpsuit : a size 6 months on top of a size 3 months -as I struggled to find really warm clothes for baby –it often starts from 12 months, as there probably aren't many nuts parents to take their babies in the cold weather. I also bought a hood from Reima, super light and warm, to wear under her hat and her overall lined hood. I also put a pair of ski socks for kid (size 12 months) over the pyjama. I also bought an over-pyjama, which is a pyjama to put over a classic pyjama, as you can guess. We didn't use it as the weather wasn't that extreme.

To resume the clothes for a trip in Lapland with a baby :
– merino wool bodysuit
– merino wool pants
– merino wool overall
– winter pyjamas
– over-pyjama
– regular socks + ski socks bigger size to fit over the pyjama
– gloves : one small pair plus a bigger one to put on top of it if needed
– 2 winter jumpsuits with two different sizes
– a warm hood

Pacifier rather than finger : As during your trip, her hands will be hidden under lots of layers. Zoé discovered the pacifier on day one in Finland and loved it straight away –which saved us from looots of tears.

Sunglasses : Sooo much snow, it's a must if you have blue skies.

Nomad bottle warmer : So if your baby ever gets cold and you're not breastfeeding, you can feed her anytime, anywhere.
TRAVELING IN LAPLAND WITH A BABY : WHAT TO do ?
Lapland wasn't on top of my list of destinations to explore with a baby, and yes, I've kinda hated my brother and his fiancée for a minute when I realised the whole organisation that required that trip (yes that was their idea: their wedding!). But in the end it was absolutely stunning. The cold made Zoé happy and tired so she slept a lot. She was so cosy in her outfit she never got cold. And I loved our walks in the snow. It's so quiet there, you're alone with the nature. Absolutely magical, and very soothing for a young mom. So what to do when traveling in Lapland with a baby ?
Take walks in the snow. The nature is majestic, the silence incredible –especially when you used to live in Saigon!-, the air beautiful… Most accommodations are lost in the midst of the wild, often near a lake, so you won't even have to take your car to go on a walk. And you can even go during her nap, if you have somebody to keep an eye on her.
Go on a sled dog journey. Prepare for a very cold adventure… that's when you'll need all the gear you have !

Cuddle by the fire. You can't get any more cosy than an evening in a Finnish chalet.

Photo sessions in the snow whenever the sun is out. The good thing in winter in Lapland : it's almost always either sunrise or sunset !

Go Aurora hunting. If you do spot a big one, your baby might be as amazed as you !

Meet the wildlife. Reindeers, baby!
Don't miss a post !
Sign up, get inspired.
Thank you!
[ad_2]

Source link